Do you want to know how to make laminate floors less slippery? If yes, then you just landed on the right page as here we are sharing the best methods to make your laminated floor less slippery and avoid injuries.
Did you recently wax your floor? That can be the reason, your floor is slippery. But there are a few more reasons that cause the floor to be slippery like super-hard coating etc. If you polish your laminate floor that can also make the floor slippery. Also, dirt makes laminate floors slippery.
Slippery flooring is dangerous and can cause serious injuries especially to the elderly, people with wheelchairs, and pets. But worry not there are methods to make laminate floors less slippery that we are going to learn in this guide.
What is laminate flooring?
Made by "fusing multiple layers which include an HDF core", laminate flooring is a type of hardwood flooring that is an excellent option for people who want a lovely wooden finish to their house but also have a tight budget.
Some experts, however, say that the lower prices come with a compromise in the quality. These laminate floors do not tend to last for long, and if they are exposed to moisture, they tend to puff up. Unfortunately, it is not even possible to fix or refurbish them, and in case of damage, they will have to be replaced entirely.
How To Make Laminate Floors Less Slippery
Now make sure to follow the methods that we are going to share below and you are good to move around freely on your laminate floor.
1. Keep Your Laminate Floor Clean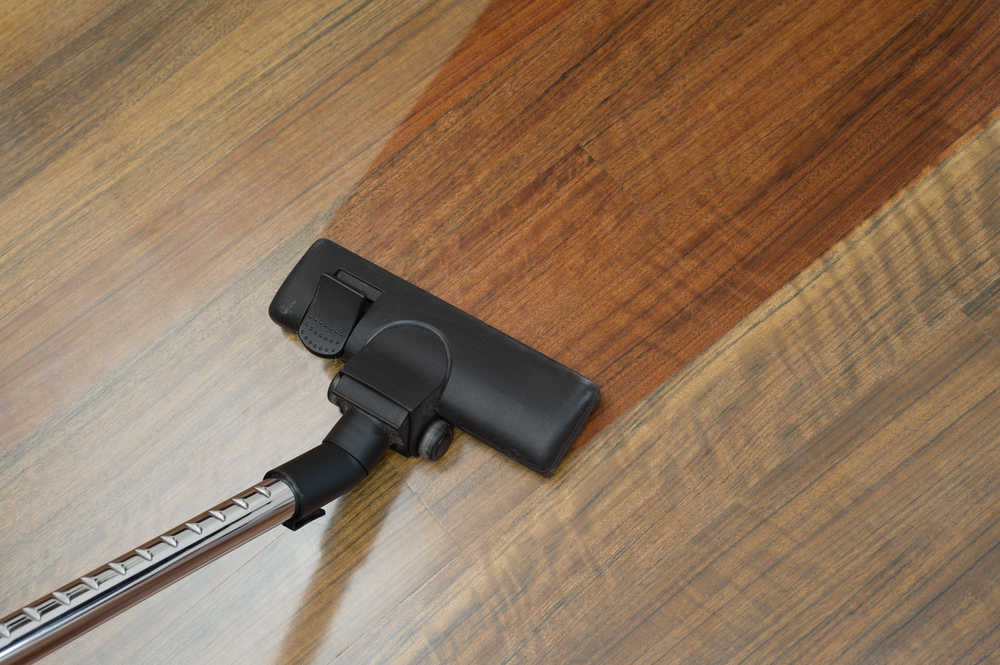 The primary and most common reason for slippery wooden floors is because they are dirty or are dusty. So the first and foremost thing to religiously follow when you have a laminate floor or any wood-based flooring for that matter is to make sure it is always clean. The dust on the floor destabilizes the floor and hence makes it slippery.
You can clean the floor properly by using a vacuum cleaner or simply use a broom and sweep the house every day. Experts suggest people sweep their floor every day and vacuum and mop once a week to maintain their floors really well. While using a vacuum, make sure to use a soft attachment to avoid any scratches on the floor.
Cleaning not only makes your flooring look better but also increases the life span of your flooring. But these are not the only reasons you should clean your floor. When you don't clean dirt from your laminate floor, you unintentionally make your floor less slippery. That is because a thin layer of dirt makes your floor slippery.
So to avoid slipping on your floor, you need to clean your floor twice a week or at least once a week. You can vacuum your floor or sweep or do both for better results. While vacuuming use soft attachment so that you do not scratch your laminated floor.
Also, you need can mop your flooring but do damp mopping so that you don't damage your flooring. To mop your floor you can use a microfiber mop and you can use vinegar and warm water mixture to eliminate germs, bacterias, etc.
 2. Anti-slip for Laminate Floor
Nowadays, it is very easy to find anti-slip sprays. These are small bottles that spray out a liquid which helps your floor to be less slippery. These are an excellent investment to make, especially if you have small children or older adults at home because you do not want to risk their safety and end up paying thousands of dollars at the hospital.
These anti-slip sprays can be easily found on e-commerce websites like Amazon. Each brand has different directions of use, so please make sure to read the instructions of the bottle thoroughly before using it on your floor.
Also, before applying it to your whole flooring, test it on a small patch of your flooring in a place where it is not evidently visible, and check how the spray reacts with your floor before using it everywhere.
3. Use Rugs, Runners, Doormats, etc.
Place carpets or rugs in places where you find the floor the most slippery, but before placing them, make sure they have a rubber back to stay in their place and not slip off the floor, making it more hazardous.
Place doormats in front of your house and encourage members of the house and guests to wipe their feet before entering. This will prevent particles from entering your home and keep it clean and avoid any slipping hazards. Not only will this help with your floor, but it will also improve the overall hygiene of your house.
Final Words
There is really only one thing that you need to do to keep yourself from slipping on your wooden floor, keep your house clean! This is not any special requirement because we will anyway clean our house regularly, so just continue doing that, and you can add rugs and doormats to make your work easier, and that is how to make laminate floors less slippery.
This article talks about how to make laminate flooring less slippery, provided some really effective tricks that can help with your problem, and help you and closed ones stay safer.
So these are the ways that you can follow to make laminate floors less slippery. Keep your floor clean and make sure not to spill liquids on it. You can use carpet or area rugs to avoid slipperiness and also you can start wearing rubber footwear in your house.
Tell us which method is working for you and if you like this article share it with others.