A hardwood floor looks very beautiful in the house and brings warm beauty to your house. To last longer, the hardwood floor needs proper care. So it is your duty to keep the hardwood floor clean and stains free.
You may have encountered black rings or dark watermarks and these are the most problematic and troublesome stains on your hardwood floor. Mostly when you leave water for a long time on your wooden floor, it penetrates the surface and leaves dark water stains behind.
So now the question is how to remove dark water stains from wood floors? Well in this guide here we are going to explain the same.
How To Remove Dark Water Stains From Wood Floors
Well, there are so many tricks and methods that you can use to eliminate water stains from your wood floors. But the problem is, most of these methods are not suitable and effective in many cases. The reason behind this is simple, it happens because stains are different kinds.
So let's start and learn how you can eliminate the dark water stains from your floor.
Removing Fresh Water Stain From Wood Floor
Just spilled water on your floor? In this case, you can clean the floor as soon as possible and prevent the water stain from happening.
Take a soft cotton cloth or towel and clean the spot immediately. The cloth or towel will absorb the water.
Now, this should remove the water and stain from the floor and if you can still see the stain on the floor, then you need to use a heat gun or a blow dryer to dry the moisture.
Drying will prevent the water from taking place into the wood floor. But try not to burn or overheat your wooden floor.
In the end, you can buff the area with oil-based polish. Doing this will help you to get make your floor look new, shiny, and beautiful.
Removing Old Water Stain From Wood Floor
Now, here we need to perform some different tasks, and then we will be able to remove black water stains from the wood floor. As we said earlier not every stain is the same kind and what is working for others, may not work for you. So check out the most working ways to clean dark water stains from wood floor.
1. Using Bleach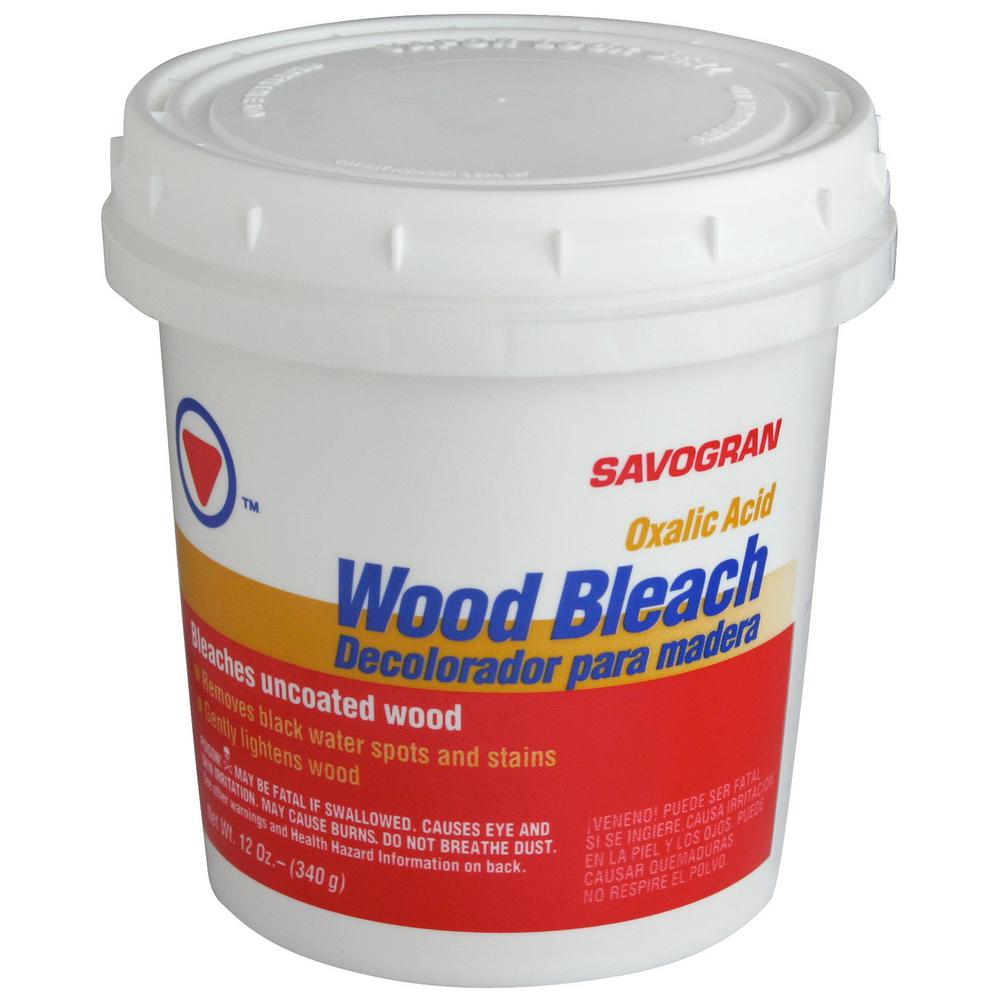 Bleach is a universal cleaning agent and using wood bleach we can get rid of black stains from wood floors. With the help of a chemical (bleach), we can eliminate dark water stains without damaging the wood floors.
All you have to do is go to your local supermarket and purchase the commercial wood bleach. You can also order online if you want. Now follow the instructions given by the manufacturer and you can clean the stain.
2. Using Magic Eraser
Another amazing product that you can use to get rid of the stain is Magic Eraser. This commercial product is very easy to use and you can get the work done very fast. You can use Magic Eraser on Bare or Polished wood and you may use this product several times to eliminate the dark water stains.
3. Using Baking Soda
Now another working method on our list is using baking soda. This product is easily available and you can purchase it locally from any grocery store. Using baking soda you can clean wooden floors without damaging the floor.
All you have to do is create a paste of baking soda and water. Follow the steps given below:-
First, we need to make a paste. You need one cup of baking soda and a half cup of water. Mix these two and form a paste.
Now, apply the paste gently to the stains with the help of a cloth and you need to start rubbing the stain with the cloth.
Rubbing will clear the stain, but if the stain is still there then apply the paste and leave it overnight.
The next morning, wipe off the dried paste using a cloth.
Using this method the stain will be removed and in the end, you can sweep the floor to remove the residue or also vacuum the area.
4. Using Salt and Oil
There is one more homemade method that you can try to get rid of the stain from your wooden floor. We again need to make a paste and then rub it on the floor. Follow the steps given below.
We need one teaspoon of salt and one teaspoon of olive oil. Mix these two until you make a paste.
Now take a brush and gently apply it to the dark water stain. Let the paste sit for 20 minutes.
After that, with the help of a damp cloth remove the paste.
Using this method the stain will be removed.
5. Using Vinegar
Another best working way to get rid of the dark stains from the wood floor is using vinegar. You may know, Vinegar is one of the best universal cleaning agents. This item is easily available and affordable. It is very powerful and works best to remove stains and as a disinfectant and deodorizer. Now we will use this item to remove dark water stains from wood floor.
Safety first, wear gloves so that you can protect your hands.
Now take a bucket and mix the same amount of vinegar and warm water in it.
Once both are mixed, dip a brush into the solution and start scrubbing the stained area gently.
You may need to perform this several times depending on the stain age. Once the stain is removed, wipe the area with a damp cloth and then clean the area with a dry towel.
Make sure not to overdo this, but if you do then you can restore it by sanding the affected area with sandpaper.
How to prevent water stains on wood floors?
It is possible to prevent dark water stains, all you need to do is follow the steps we mentioned below.
Always keep your floor clean and mop the liquid spills as soon as they happen. Never let water or any other liquid stay on your wooden floor.
If you got a pet, clean its mess before it gets soaked by the wood floor.
Never let the stain get old as older stains are hard to remove.
Use rugs under the furniture legs to avoid dark circle stains.
Avoid wet mopping and do damp mopping to avoid problems like stains.
Check the molds and mildew formation frequently and remove them asap.
Final Words
It is your duty to keep your floor clean and stain-free. If you take care of your floor then you will never have to worry about stains or anything.
Keep your floor clean and remove the liquids from the wood floor as soon as they spill. Never let the water settle on your wooden floor otherwise, you may end up replacing the whole flooring.
Now if you got dark water stains on your wood floor, you can follow these working methods to remove dark water stains from wood floor easily. These homemade methods are working and will help you for sure and you won't damage your floor while cleaning stains.